Course details
【Black pig shabu-shabu & lava grill premium full course】 Drink for 120 minutes at 4000 yen (tax included) +1000 yen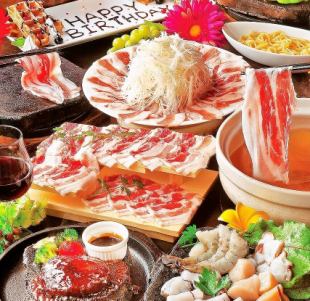 By using a coupon4000 yen
+1000 yen 【120 minutes with all you can drink】
All-you-can-drink available

120 minutes All you can drink! ※ Friday, Saturday, Sunday and public holidays 2H All you can drink ※ All you can drink at the time you get your first order, last order will be 30 minutes before.
Reservation deadline

Coming to the store until the desired date of the day 17
The main is a black pig lava grilled shab with lava of 30 mm thick! Course of all eight items.It has become a plan with drinking of 150 minutes (2H before Friday, Saturday, Sunday and Public Holidays) where more draft beer can be tasted
Course menu
◆ Course ◆
■ Fresh salad with original dressing
With original dressing boasting fresh vegetables.
■ Grilled lacquer of Edamame
By grilling the sashimi, it makes a surprisingly fragrant taste.It is a popular dish where sake goes.Please use rock salt.
Seafood lava grill
Cow cut steak
■ Black pig lorry roasted shabu shabu from Kagoshima prefecture
Baked rich sweet black pigs with hot lava and with special taste.In minerals, plenty of sweetness, soft to melt.
■ Lava hamburger steak
■ White grilled green onions and black pig's shabu-shabu
■ Champion of the December
■ Annin tofu
2018/05/22 update